Marigold – Podcast S1 E3 – October 29, 2020
The 3rd episode of Secret Life of Flowers, I'm Carlie, not a botanist, just an artist obsessed with all things flowers, especially the language of flowers, and here to share with all of you flower lovers out there.
Marigold of the tagetes and Asteraceae families consisting of more than 40 species. They are an annual herb native to the southwestern United States, Central America, and South America down into Argentina. Mexico housing more species than anywhere else.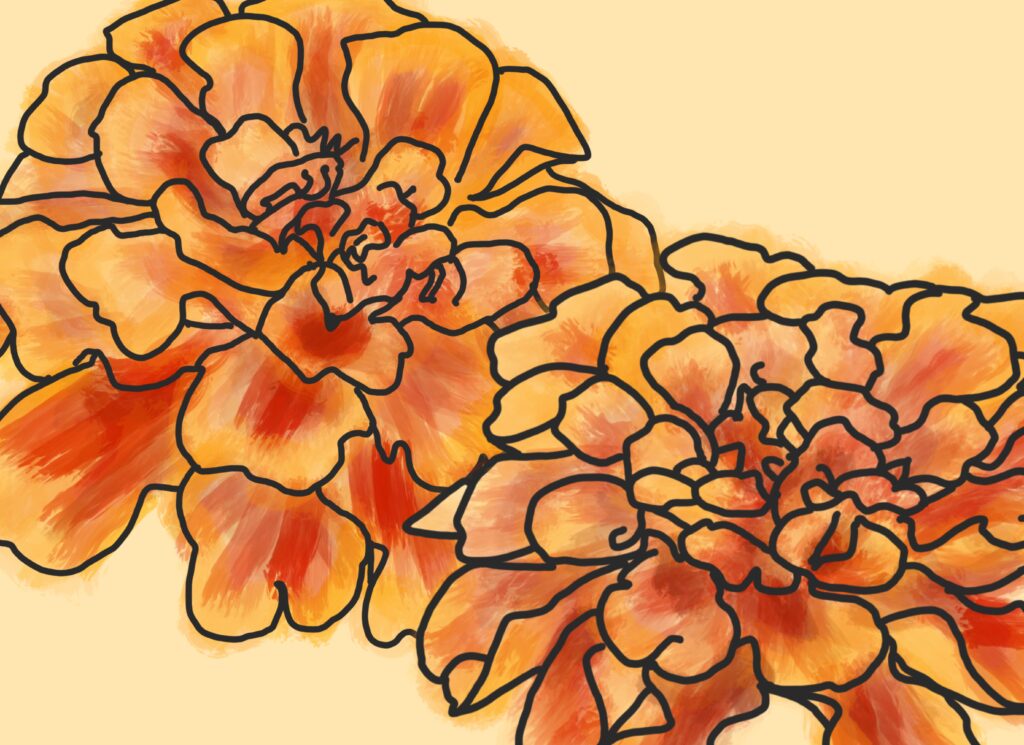 Marigolds are the "the herb of the sun". Early Christians put marigold flowers on Mary's alter, as an offering, instead of gold – "Mary's Gold". Being where the name is believed to have originated. Marigolds are the birth flower for October babies and the flower of dia de los muertos, day of the dead, a celebration of life that honours our loved ones that have passed on.
Their colouring ranges from a very pale light yellow through orange to a reddish mahogany brown. The name marigold also refers to the potted marigold (that you see a lot in the autumn), from the genus Calendula and they are unrelated plants.
Symbolism & Meaning
Marigolds tend to have good meanings but over the years have also picked up a few that are less savoury. Also, as usual the region can have some play in the meaning.
Despair/grief over lossed love, beauty of the sun, winning someones affection, creativity, drive to succeed, desire for wealth, cruelty, sacred offerings (to the gods), remembering and celebrating the dead, promoting cheer and good relations
A few different religions see marigolds as sacred flowers, therefore, they are offerings to the gods.
In the Victorian era, they often symbolised grief and despair as well as cruelty
In the middle ages both genders carried or wore them as love charms or spells to attract someone new
They are the colour of sunshine, because of this, they are often a gift to cheer someone up. Bringing that person optimism, success, and cheer.
Pairing to Decorate or Give with Purpose
Decorate your home to say beauty, sunshine, cheerfulness, joy then I would pair marigolds with yellow tulips, daisies, chrysanthemums, delphinium, daffodils, birds of paradise, and/or dandelions
If you want to put wealth and success into the air around you then you should pair marigolds with alstroemeria, wheat, polyanthus, mountain laurel, king buttercup, horse chestnut, tiger lily, cornflower, and/or yellow poppy
To celebrate the life of a passed love one and express your grief then put together a bouquet of marigold, forget-me-not, amaranth, statice, bellflower, phlox, pink carnation, white lily, dark crimson rose, tea rose, mixed zinnia, everlasting, lucern, white periwinkle, and/or syringa
History
Marigolds were sacred flowers to the Aztecs. They bred them to create bigger and more attractive blooms. They used them for medicinal, religious, and magical purposes. Like, treating hiccups, healing someone struck by lightening, or helping a person safely cross a river. Spanish explorers took seeds from the Aztecs in the 1500s and that lead to their spread across Europe and Africa.
In Mexico and Latin America Marigolds are alter decorations during All Souls Day. They also scatter the flower heads on graves of their loved ones. Marigolds are the flower of Dia de Los Muertos, the celebration of life and grief for our departed loved ones. The pungent smell and vibrant colour help guide the departed souls back to their alters, and us, during this celebration.
In Hindu religious ceremonies they create a marigold garland to decorate the village gods during the harvest festival.
In India they float the blooms in bowls of water as decoration, use them in cooking, and feed the petals/pollen to their poultry. The reason for feeding them to their chickens is so their egg yolks will be more orange and their skin more appetising in colour.
Uses
*I would like to preface this with, I am not a herbalist, please do your own research, I am just sharing what I have learned.*
Use Marigolds in organic farming and gardening to deter pests.
They can do lots for your digestive tract, such as helping with poor appetite, stomach pain, gas, colic, intestinal worms, dysentery
They are also a use for treating colds, coughs, mumps, fluid retention, and sore eyes.
Some women-specific uses are to start mensuration, treat sore breast, and protect against miscarriage.
The leaves put directly on the skin to treat sores, flowers used as a mosquito repellent, and the juice used for treating eczema.
They are also a flavour component in cooking (this one may typically be calendula).
It is common knowledge that marigolds have a pungent smell, because of this, they are often a useful ingredient when manufacturing perfume.
Also note, some tagete Marigolds can be irritating to the skin. Some say it is the calendula, which aren't true Marigolds, that are edible.
Keep Your Marigold Alive & Thriving
Sow seeds in your garden in early spring through mid-summer. They germinate so easily outside that there is really no need to start them indoors. Check the almanac to get your local last frost date.

It is best to purchase the tall African variation as a small plant or start the seeds indoors 4 to 6 weeks before the last frost. If you want to start them in your garden then wait until after the last frost, before planting. This variation takes longer to germinate so you can't wait too long but planting too early will mean it is still too cold.

Marigolds like full sunshine and can usually withstand hot summers.

The African and signet variations can usually withstand droughts.
The French variation is more tolerant of wet conditions.

They grow very easily so soil isn't a huge concern but for hope of best results then moderately fertile, well-drained soil is your best option.
To keep established marigolds from becoming leggy, pinch off the tops. This will also help them become bushier.
They don't require deadheading but doing so will encourage more flower growth. If you are going to deadhead your Marigold then cut (or pinch) the flower off back at the nearest set of leaves.
Do not fertilise during growth, this will cause your marigold to become overly lush, green, and bushy but not produce very many flowers.
Don't water from overhead, water at the base. This is because excess water on Marigold leaves and flowers can lead to a powdery mildew forming.
A few more things of note – marigolds come from seeds and are annual plants.
That is all I have for Marigolds!
I hope you love them a little bit more now! They happen to be my husband's birth month flower, so I have a soft spot for them!
If you have heard any other uses, meanings, or are an expert then I would love you to leave a comment and share what you know with the rest of us! If you are interested in purchasing ad space or buying a friend's birthday shout out, on my podcast, then fill out the contact form.
You will also find all of my sources under the sources tab.